At Valley Alder Family Dentistry, Dr. Alpesh K. Patel is dedicated to helping families receive oral health care that is centered around the patient's wellbeing and happiness. He also believes that you and your loved ones deserve to experience beautiful and healthy smiles you can enjoy for a lifetime.
Whatever your needs are for dental care, Dr. Patel and his team have the knowledge and skill to deliver exceptional family dentistry through comprehensive services, patient education, and respectful communication. Contact Valley Alder Family Dentistry in Bloomington today.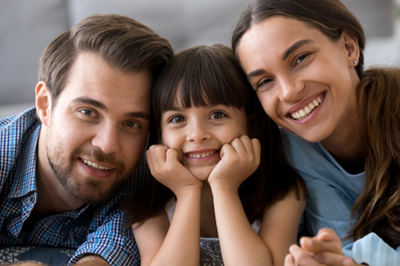 Why Choosing a Family Dentist?
Family dentistry focuses on oral and dental health stages of all family members. Dr. Patel is dedicated to preventing, diagnosing, and treating dental issues for all ages. Valley Alder has dental services for the entire family.
Dr. Patel does more than provide essential oral care. Dr. Patel will help educate each patient maintain pristine oral health and avoid dental issues.
Comprehensive Services for Your Family
Family dentists focus on each family member's dental stages and needs. A family dentist has the experience and knowledge to create treatment plans unique to each age group.
Valley Alder Family Dentistry Services:
When it takes a miracle, we're here!
Call Dr. Alpesh Patel for the same-day
Emergency Dental Appointment

Dental Care For Every Age
Proper dental care is essential for all family members. Dental care can help maintain oral health and function. A family dentist can help educate patients on good oral hygiene and proper oral care. A family dentist can also trace any family medical history to help identify and diagnose any potential dental issues.
What Issues Can a Family Dentist Treat?
A family dentist can address:
Tooth decay
Periodontal disease
Bad breath
Mouth & cold sores
Oral cysts & tumors
Missing teeth
Dental chips, cracks, fractures, and wear
Does a Family Dentist See People Without Families?
Of course! Even if you're a single adult, you can still benefit from family dentistry services. Dr. Patel offers smile evaluations and digital X-rays to assess the health of the teeth and gums. Through a smile evaluation and various tests, Dr. Patel can identify any oral issues. Dr. Patel will then create a dental treatment plan to address any issues found.
When Should My Family Visit a Family Dentist?
Children should visit Valley Alder Family Dentistry around their first birthday or as soon as their first tooth appears. For oral care, parents should clean infants' gums with a clean, damp cloth several times each day.
Teens, Adults, and Senior Patients
Teens, adults, and seniors should visit the dentist every six months for routine examinations and cleanings. Dr. Patel will monitor the patient's oral health and diagnose any oral issues the patient may have.
Dr. Patel and his team are well versed in pediatric dentistry. Children's oral health development and health are very important to a healthy smile as an adult. One of the most important oral health stages as a child is when the child goes from baby teeth to adult teeth. Dr. Patel will perform a dental exam for each child and educate parents on the child's oral care.
Dr. Patel provides sealant treatments to protect children's teeth form dental cavities. Dental sealants will coat the child's tooth to keep teeth healthy and cavity-free. Valley Alder Family Dentistry also offers dental cleanings and examinations for children. Dental examinations can help detect early signs and symptoms of dental problems.
Contact Valley Alder Family Dentistry Today!
Our team at Valley Alder Family Dentistry provides dental treatment for your entire family. Contact us today!